For travelers in the southwest of France, driving from Auch to Toulouse on the national road 124 (RN124) feels pleasantly different since February 14, 2022, when Gimont bypass was officially opened to the public.
However, only two years ago, the RN124 was going through the center of Gimont – a small city with 3.000 inhabitants. In 2020, the construction of a new 2 x 2 lane route, bypassing the town of Gimont from the south, was initiated by the French government.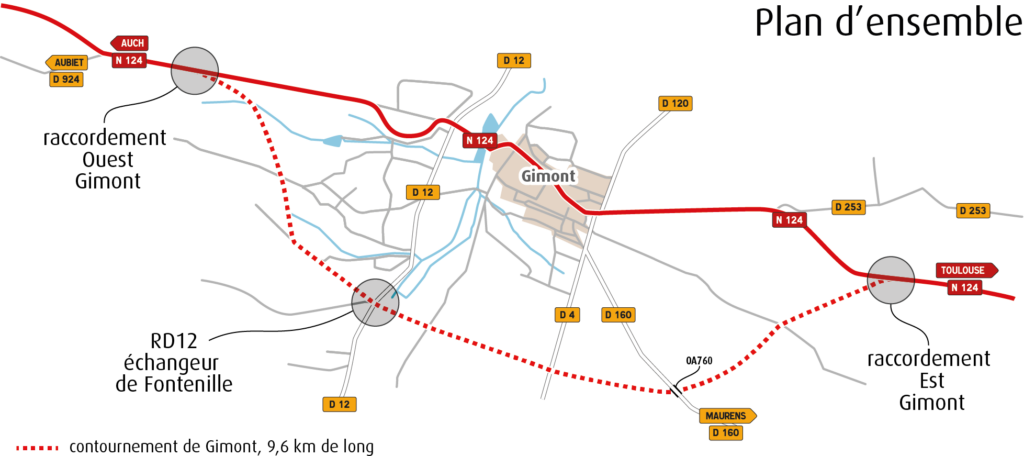 The project ran over a distance of 9.6 km and covered a total surface of 220,000 m2. 1,700,000 m3 of soil needed to be moved for the project. This makes Gimont bypass one of the largest earthwork projects in France in 2020.
ROGER MARTIN GRANDS TRAVAUX was entrusted with the project as the sole contractor in charge of all earthworks, drainage and pavements, taking care of even the road signage and safety equipment. This was a first time for this company, which used to act as a co-contractor on projects of this scale.
More work than expected
Entrusted with the project as the sole contractor, ROGER MARTIN GRANDS TRAVAUX started with earthwork in February 2020.
However, when they started to excavate soil, they found out that the closest area, where soil could be temporarily stored, was located 1600 meters away – more than double the length of 650 meters as initially planned. "This implied a huge change to the initial planning," said Thierry HUGON.
Now the jobsite director needed to create a new agreement that could reflect the significant change in process and finance.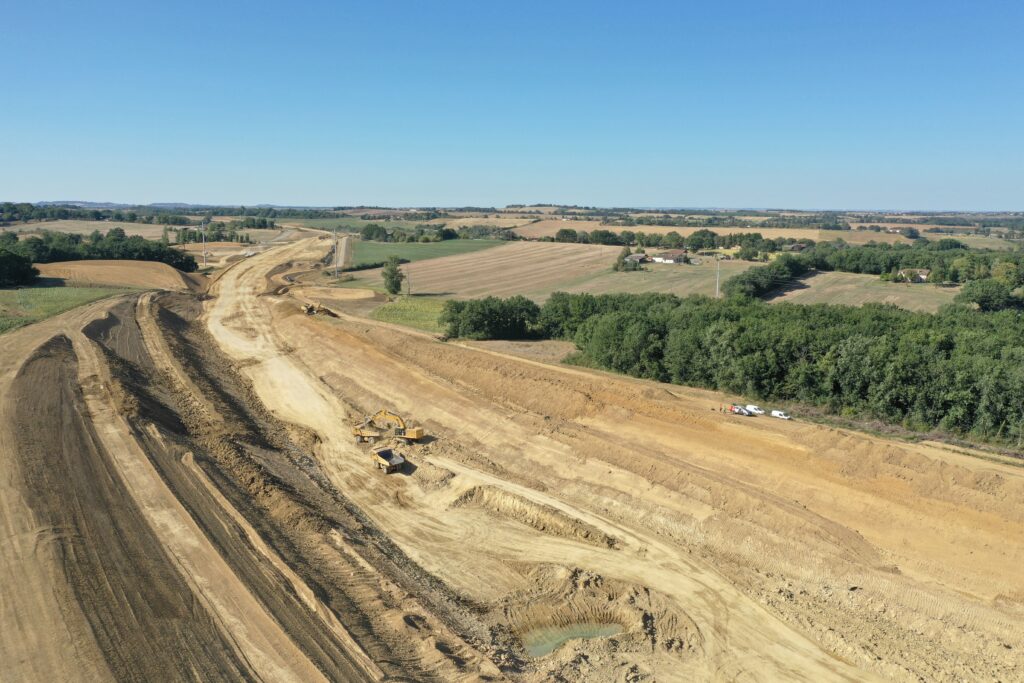 Looking for a smarter way to record cycle time
To support his request by means of actual data, Thierry HUGON had the plan to drive behind the trucks to record the time and speed with a chronometer and count the number of cycles. Then combining this information with the daily reports submitted by the foreman, he hoped to get a relatively accurate understanding of his team's daily productivity between the loading area and the filling Area C. Needless to highlight that this method has clear disadvantages. Recording cycle time and manually entering these data takes quite a while. Plus, driving around on a big jobsite like Gimont burns a lot of fuel. There must be a better way!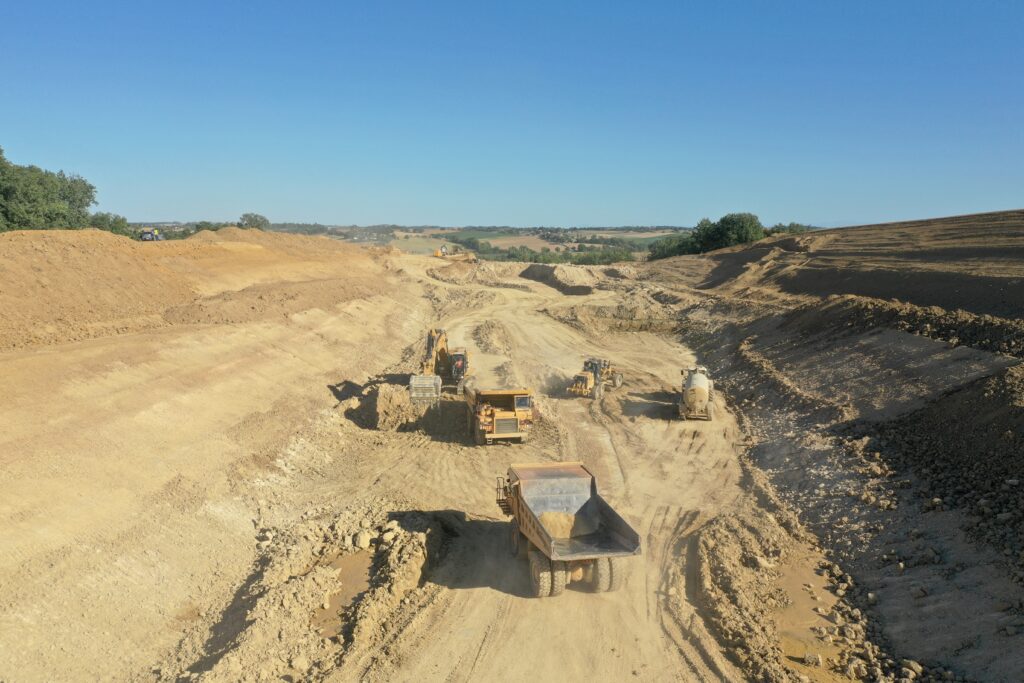 Smart Construction Fleet for accurate productivity insights
After a thorough analysis of the challenge faced by the jobsite director, Smart Construction advisory experts recommended him to utilize Smart Construction Fleet to track soil movement to the new filling area.
Smart Construction Fleet uses either a tracker or a smartphone application to log the movements and actions of a machine. Thanks to that, the supervisor can visualize all real-time data on a web- or mobile application. By setting up geofences around load and dump sites, it's then easy to know when and where an excavator emptied its bucket, how many cycles the dump trucks performed, and how many cubic meters were moved.
Thierry HUGON equipped his fleet with 7 Smart Construction Fleet devices, one attached to a CAT 374 excavator and the others mounted on six VOLVO A35 dump trucks. After a quick installation, his seven machines were good to go.
Every day from November 2020 to the end of February 2021, Thierry HUGON could gain crucial insights into his fleet productivity, including the working hours of each machine, the time needed by a dump truck to complete 10 cycles, the average time per cycle (in minutes), the number of cycles performed by each dump truck, and the volume of moved material (in cubic meters).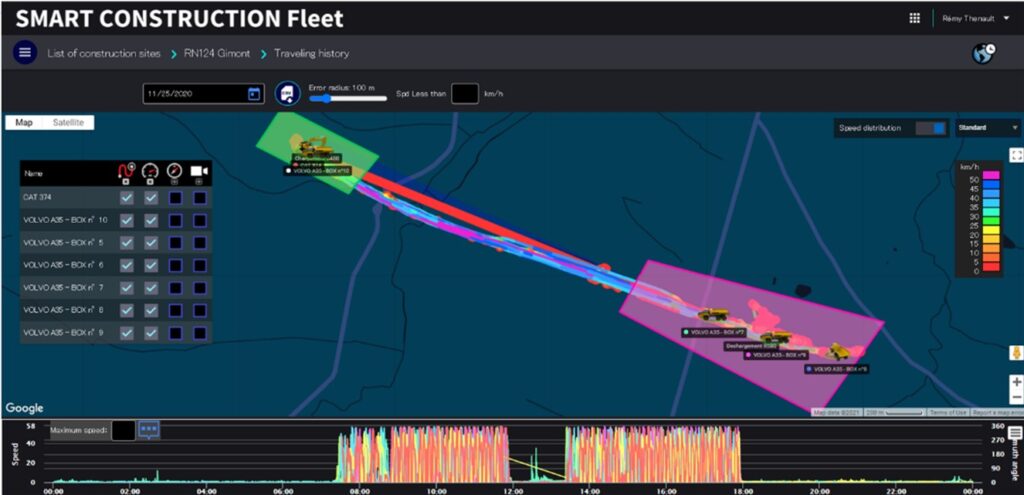 Driving behind trucks with a stopwatch in hand was no more than a distant memory. With productivity data automatically recorded by Smart Construction Fleet, Thierry HUGON could have crucial information pushed to his fingertips while sitting in the office. For a jobsite manager with a busy schedule, this has liberated Thierry HUGON from a great deal of manual and repetitive tasks.
While negotiating for the new price reflecting the 12% additional payment, the data collected by Smart Construction Fleet served as a convincing piece of evidence for the jobsite manager. This has earned his team more accountability and made the negotiation process much smoother.
Turn hindsight to foresight
Thierry HUGON was enthusiastic about the insights brought by Smart Construction Fleet. For him, this experience is a perfect example of how Smart Construction solutions can facilitate access to data and information that used to be difficult to collect. He's confident that accessing all these data can fundamentally improve our current way of working.
For example, even after the work is finished, he has now the possibility to sit down and play back machine travel history. He can identify the idle time of each machine, pain points in haul routes, and logistic bottlenecks. He can then further use the knowledge to proactively plan, prevent or navigate around the issues in future projects. He believes that the insights brought by Smart Construction Fleet will enable him to have a better view of operational cost and his business' profitability, which will in long term, help him better prepare for the next biddings.