Disclaimer: Company X is a fictional company and is not related to any existing company with this name.
This story is an accumulation of Smart Construction customer cases.
Company X is a small, family-owned business that has been working in civil construction for four decades. Its fleet consists of machines from several manufacturers. They are in good working condition but are starting to show their age, and the company has no budget to upgrade its fleet. For some years, Company X has been facing strong competition from bigger companies that do have the funds to invest in modern machines. The company is eagerly awaiting new projects…
Soon enough, local authorities launch a tender for the construction of a dike. Several companies want to bid on this project, including Company X. Manually surveying such a dike project is too time-consuming and would drive up the price. So, to make a competitive bid, the company would need machine guidance. However, it has limited funds, so new machines or aftermarket kits are out of the question. How, then, can Company X upgrade its machines in a cost-efficient way?
Hours of Surveying
Without going into too much detail, the construction of this dike will be a complex project. The jobsite is multiple kilometers in length and tons of soil need to be moved. Without machine guidance, operators would have to rely on stakes that have been set out by a surveyor (and which are sometimes hard to see). For every layer of material that needs to be cut or filled, the surveyor places new stakes. On such a big jobsite, this survey work takes hours, as the surveyor has to physically move from point A to B. In addition, he has to remain on-site for troubleshooting. The result? High surveying costs.
| | | |
| --- | --- | --- |
| | Dike A – conventional jobsite | Dike B – machine guidance |
| Amount of soil to be moved | 186.000 m³ | 613.000 m³ |
| Survey costs | € 26.000 | € 13.000 |
| Stakes and Paint | € 4.080 | € 93 |
| m³ per surveying hour | 465 m³ | 3065 m³ |
Table 1: Comparison of surveying costs for a conventional jobsite and one with machine guidance
Machine guidance for higher efficiency
GPS-based machine guidance is the answer to these challenges. In an excavator equipped with such a system, both the operator and the machine know and see exactly where to cut or fill material. The operator sees a detailed 3D model of the jobsite on a screen in his cabin, with all layers of clay, gravel and drainage material, and he is able to work on all of them. Stakes are no longer needed. Machine guidance, then, drastically reduces digging errors, survey hours and operational costs. It makes construction much more time- and cost-efficient, as the tables below show.
| | | | |
| --- | --- | --- | --- |
| | No machine guidance | With machine guidance | Savings |
| Digging costs | € 2.825.000 | € 2.400.000 | 15% |
| Survey costs | € 30.080 | € 13.093 | 56% |
| Personnel costs | € 1.750.000 | € 997.500 | 43% |
| Sewage costs | € 1.900.000 | € 1.672.000 | 12% |
| Utility costs | € 603.000 | € 530.000 | 12% |
| Total | € 7.108.080 | € 5.612.593 | 23,5% |
Table 2: Cost comparison for a development project without and with machine guidance
Machine guidance is available on newer excavators or as an aftermarket kit for existing machines. However, Company X does not have the money to invest in a new machine. Aftermarket kits are also too expensive for them: a kit costs about a third of what an older machine itself is worth. In the end, the company went looking for a less expensive alternative
The cost-efficient Alternative
Construction Company X decided to equip its excavators with Smart Construction Retrofit. This kit gives them all the benefits of machine guidance at a lower price point than competitors' solutions. It's an easy-to-use system that allows operators to work more efficiently. Not only does it help them dig with high precision, it also offers payload functionality to prevent overloading. In addition, Retrofit constantly collects as-built data, so that there is no need for surveys during and after construction. Smart Construction Retrofit, then, will allow Construction Company X to carry out the dike project in a cost-efficient way – and to make a competitive bid.

The challenges of jobsite logistics
However, this is not the only challenge Construction Company X faces. An excavator equipped with machine guidance may create the perfect slope, but the company still needs to keep track of the cubic meters of soil that are moved to and from the jobsite. On most conventional jobsites, an overseer relies on delivery documents and his memory. To get more precise information, Company X decided to equip its excavators and trucks with Smart Construction Fleet. This solution uses a tracker or smartphone app to log all actions of a machine, such as moving, digging, and swinging. It measures the bucket load and allows the supervisor to see all this data on a computer or on mobile. As such, he knows exactly when and where an excavator emptied its bucket into a dump truck and how many m³ were transferred.
Company X also installed Fleet on its trucks to analyze and optimize the traffic flow on its construction sites. In doing so, it wants to overcome typical jobsite logistics challenges: truck drivers rely on directions from an overseer or a foreman, who can make errors and are not always nearby. These people may also simply lose track of where a truck went. In case of an incident, drivers often don't know where to go and lose time while awaiting further instructions. Several trucks may gather around the nearest excavator, while another one further ahead is idling because there are no trucks to load. Without a proper solution, the risk of bottlenecks is very real.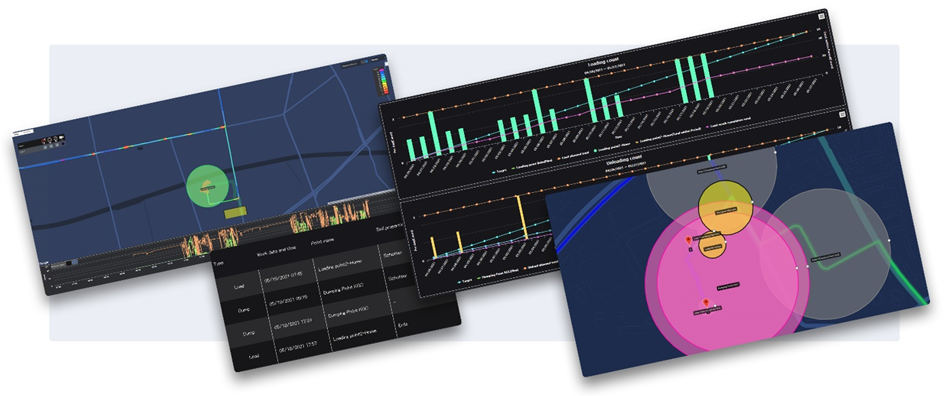 Beyond track & trace
Track & trace would be one way to solve these challenges, but Fleet takes it some steps further. It provides the company with insights on the route and distance a truck travels, interactions with other machines, loading and unloading cycles, idling time, etc. Based on these insights, overseers can identify bottlenecks and redirect traffic in case of an incident, optimize haul routes, accurately track soil movements and get a better view of the operational costs.
In short, Smart Construction Fleet makes it easy for Company X to actually work with its machine and location data. Moreover, all these analyses can be carried out from a mobile or desktop application in real time. There's no need for the foreman to stand next to the machine and he has more time to focus on other important tasks.
Gain a competitive Edge
Thanks to Smart Construction, Company X won the bid and constructed the dike in a cost-efficient way. As such, it took a significant step towards its digital transformation. Even with its limited budget, the company decided to make this investment. The initial costs were not too high and still allowed them to work in a more profitable way, freeing up money for new machinery and personnel. And while Smart Construction gives Company X insights into its current jobsites, it can also take these operational data into account when preparing future bids. With more accurate bids and lower operational costs thanks to machine guidance, Company X regains its competitive edge on the market.