Managing a successful earthmoving project takes more than just hard work and skill — it requires careful tracking of terrain data, no matter if it's the original surface, terrain progress over time or the final finished terrain. An efficient and regular update of this terrain data both serves as an essential indicator of productivity levels for team members and subcontractors, while also ensuring smooth delivery throughout the entire process.
Drone surveying for terrain overview​
Though finding an optimal way to collect accurate and up-to-date terrain data has long been a tough nut to crack, the introduction of drone surveying has revolutionized how jobsites have always been measured.
More specifically, drone technology enabled jobsites to be surveyed in a fraction of the time taken for a traditional "foot-based" survey, with the added benefit of much increased resolution. The top-down and photorealistic view (if you are using photogrammetry to process drone data) it offers is perfect to have an overall follow-up of the whole site. With regularly logged aerial footage, it has become much easier for site managers to track site progress over time, keep everyone up to date with the current state of play and spot mistakes that can lead to costly errors.
At Smart Construction, we are big fans of drone surveying, but we also admit that in practice, some inconveniences may still occur: weather can happen to be bad the day you have your drone pilot onsite or you just want to know why you are behind or ahead of schedule on a particular day, it might not always be possible to get the drone in the air right away! So, what's the plan now?
Daily productivity monitoring with machine data
Machine as-built data is perfect to fill in the blind spots between drone flying sessions. Komatsu intelligent Machine Control (iMC) technology automatically maps locations and elevations while the machine is operating. It means that you get terrain data coming from the actual machine movement and progress on the jobsite.
Let's take an iMC dozer for example – it collects as-built terrain data based on the tracks running on the ground, meaning that you always get an accurate terrain measurement from the dozer. You can basically use the dozer as a survey tool by driving around the site and collect the as-built topo shots while the dozer is getting its regular work done.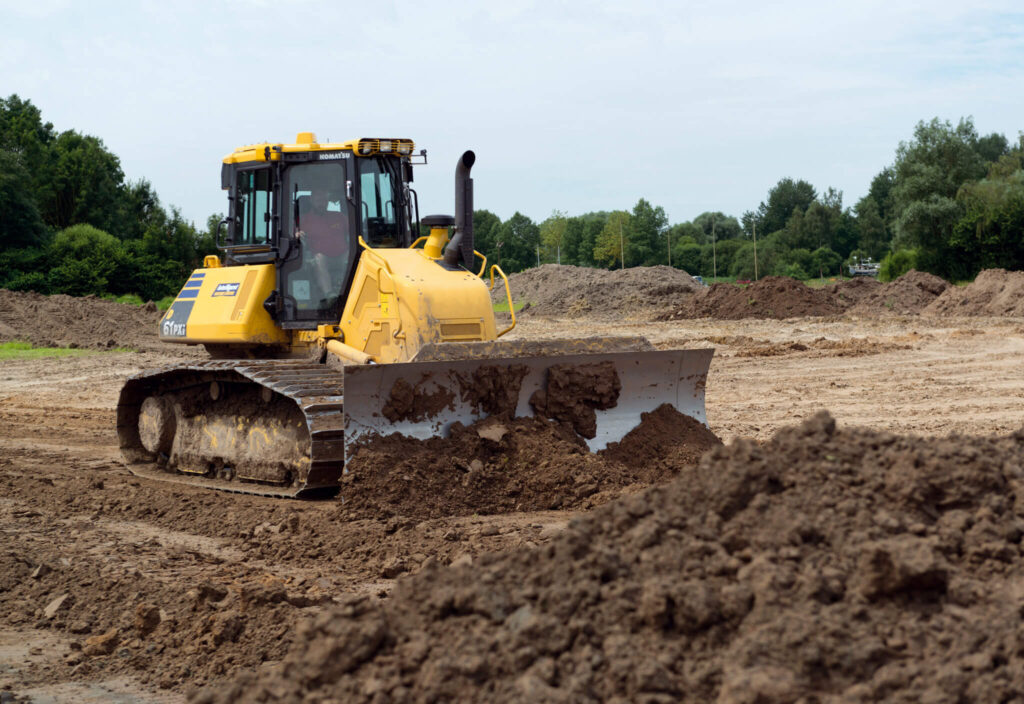 As-built data can also come from Smart Construction Retrofit Kit – our own 3D machine guidance system for excavators. While working just as 3D guidance, the Retrofit Kit logs as-built data based on the lowest point of the bucket's cutting edge when the machine is digging.
A complete view on Smart Construction Dashboard​
Another handy feature of iMC machine and Retrofit as-built data is the daily automated update on Smart Construction Dashboard – our visualization tool for all terrain related data, both designs and measured terrain. The update happens every 24 hours at the time you configure. If you, for example, set the update in midnight, then while enjoying your morning coffee, you can open up Dashboard and immediately check what has been done on the site the day before – very handy for site supervisors overseeing multiple projects at the same time!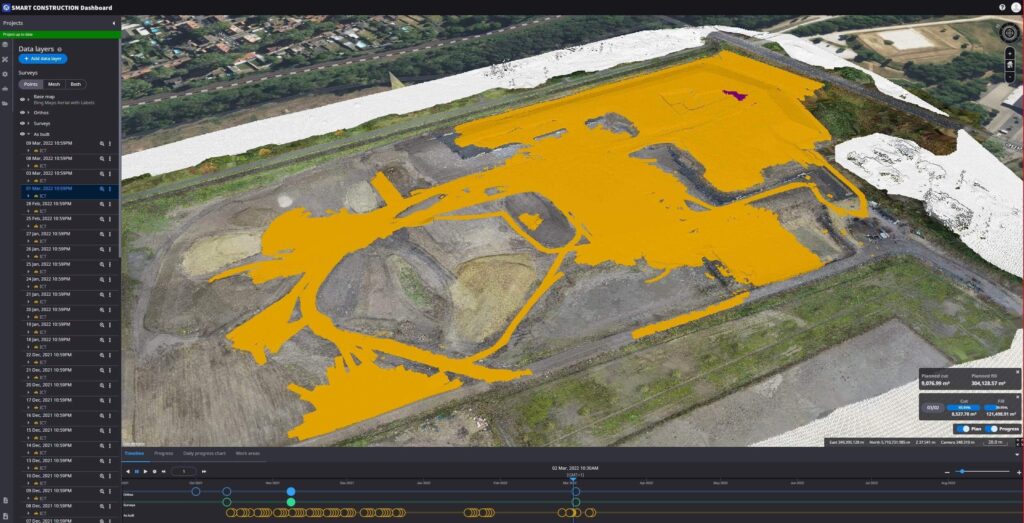 Now, let's start to look at the whole picture. With regular drone flights – we recommend a weekly or biweekly frequency – you get a full terrain update from flight to flight, no matter what has created the terrain change. Machine and Retrofit as-built data give you access to up-to-date surface data every day and this data is always integrated into the most recent drone survey. Another way around, drone footage also provides important contextual information to machine as-built data.
Armed with the latest terrain data, you can now start to calculate work progress, cut-and-fill, monitor productivity and even optimize your site.